Cheesy Cauliflower Soup With Roasted Cashew Nuts
Debbwl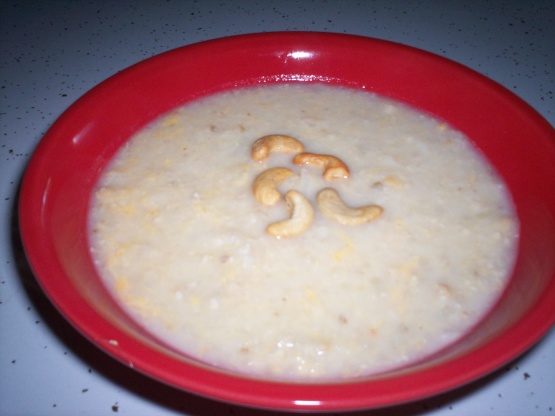 From the Women's Institute Book of Soup that I borrowed from our local library.

What a nice soup. Easy to make and very tasty. The only thing I added was 1/2 teaspoon dried thyme, crumbled in my palm, at the end of cooking, and I sprinkled each serving with a light dusting of cayenne pepper. Thank you for the recipe!
Melt the butter in a large lidded saucepan and brown the chopped cashew nuts for about 1 minute.
Stir in the onion, garlic and potato, cover and sweat for 10 mins, shaking the pan occasionally.
Add the cauliflower and stock, bring to the boil, cover and simmer for 20 mins or until the cauliflower is tender.
remove from heat and blend in the cheese, allow to cool slightly.
Blend half of the mixture and then stir this through the rest of the soup so that you can actually see pieces of cauliflower and nut.
reheat very gently without boiling so as not to toughen the cheese.
check seasoning.