Cheesey Potato & Hot Sausage Breakfest #SP5
Prep 25 mins
Cook 35 mins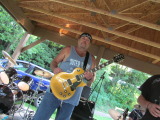 Official Contest Entry: Simply Potatoes 5Fix. I made this one morning camping, I usually make fried potatoes & eggs for everyone, but now I use Simply Potatoes, So much easier Plus you can use the different brands they sell. my favorite is southwest style. no chopping Onions, red, & green bell peppers up :-) I use hot sausage links cooked and browned ahead of time. usually the day before, I slice them like a 1/2 to 3/4 inch thick and save in fridge for the morning.
Directions
In a 12" skillet add sausage links, poke holes in the links with a fork or toothpick to release some grease, add 2 cups of water and cook on medium heat turning often until water is gone, about 20 minutes. continue cooking & turning until the links are browned on all sides, remove from pan & slice the links 3/4" inch and save for next step.
In a 12" Skillet or dutch oven, heat 2 Tbls of oil on Medium heat.
Add Potatoes and the Pre-cooked, & browned, Hot sausage slices.
Mix well, flatten,add salt &pepper and cook on medium heat for about 8 minutes.
add 1 tbls of oil drizzled around on top of potatoes and turn with spatula.
cook for another 8 minutes or until potatoes are soft and browning.
turn them again if you want to brown them more. for a few minutes.
Reduce heat to medium-low. Add eggs. Cook for 3 to 4 minutes, stirring occasionally, until eggs are set.
Top with Cheese, turn off heat and cover with a lid or foil for a minute or 2.
so the cheese melts some.
serve with a cup of OJ and Toast.
Reviews
Most Helpful
tried recipe found to be very good. have to try again for sure.
I liked it, and it was easy although high in fat. I used regular potatoes and prepared them quickly, peeling onto news paper, and soaking in pan of water till ready. I tried Simply Potatoes a couple times when they were on sale. While pouring them out, I saw that the potatoes were spoiled in spots and cleaned poorly, to say the least. I had to cut and clean anyway. Even though I didn't pay a lot, I did expect them to be easier to prepare than peeling. I have passed this on to the company, also.
I tried this recipe and I found it easy to prepare. I also found the recipe to be very good. I will have to make this for a gathering I am hosting soon!