Thorsten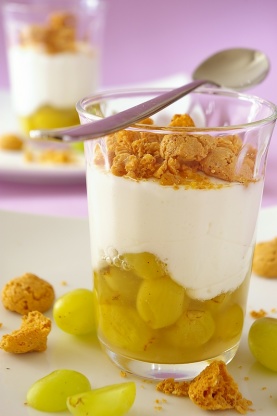 This is a different kind of dessert (and no cake). It is addictive as cheesecake is (for me). Can easily be made in advance and so easy to make. The goat cheese here is really something different. It adds a surprising flavour, which is balanced by the lime juice well. I suggest to use seedless grapes here, because you can leave them as they are.
For the sauce bring 2 tablespoons of water, sugar and white grapes to a boil. Cook for about 4 minutes over low heat. The grapes should only be soften.
Remove the grapes from the liquid with a slotted spoon and set aside.
Dissolve cornstarch in the remaining tablespoon of water and add to liquid stirring constantly and cook until sauce thickens (about 3 to 5 minutes).
Remove from heat, add vanilla extract and stir. Add the white grapes and set aside to cool completely.
Make the cheesecake cream. In the food processor or with handheld mixer, mix the two types of cheese and caster sugar until smooth and foamy.
Add yogurt and lime juice and mix until combined.
Assembling: Divide the white grapes sauce into four glasses. Top with the cheesecake cream and top each with 5 Amaretti (crumbled).
NOTE: I suggest to make the white grapes sauce 1 day in advance. Keep it in the fridge until use.