rpgaymer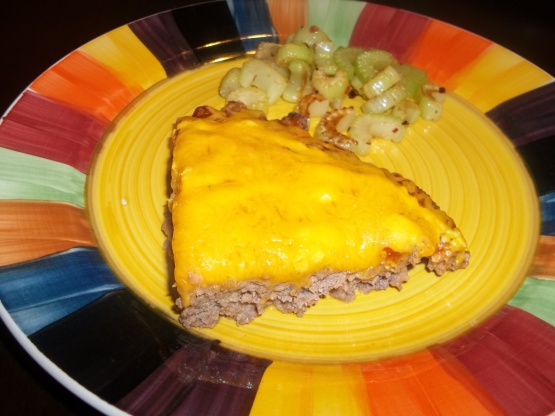 You can adapt the flavors and spices in this any way you like. Adapted from Emily Bites http://bit.ly/19caY8i

This was really good and my kids loved it! No leftovers! I had to cook it longer than 20 minutes though, about 45 minutes. I recommend using a spatula to hold the pie in place while draining the grease.
Preheat oven to 350°F Spray a 9" pie plate with non-stick spray.
Stir together breadcrumbs, chili powder, granulated onion, granulated garlic, brown sugar, pepper, salt and paprika. Add evaporated milk and stir to combine. Set aside for 10 minutes.
Stir again and add beef. Combine well using your hands, then spread into prepared pie dish. Bake in preheated oven 20 minutes. Drain juices from pan (do NOT let the meat slide out of the pan like I did!).
Spread mustard over meat. Spread ketchup on top of mustard. Sprinkle shredded cheese evenly over top. Return to oven for 5 minutes, until cheese is melted.