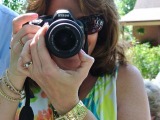 This is popular with the kids especially. My hubby and I find it a bit 'boring' but think adding mustard to it at the table helps give it a little zip.
Directions
Combine ground beef and flour in skillet. Add onion and brown.
Pour off drippings.
Add tomato sauce, ketchup, salt and pepper.
Pour into 1 1/2-quart casserole dish.
Bake for 10 minutes at 425°F.
Top with cheese and biscuits.
Bake for 10-15 minutes longer.