Cheese Stuffed Portobello Mushrooms With a Balsamic Glaze
Anonymous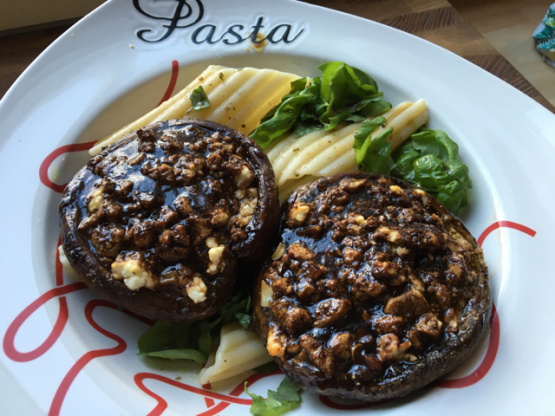 Simple but elegant! Glazed with balsamic vinegar and soy. I came up with this when portobellos's FINALLY were on special at my grocer.

These were fabulous! I did try to lighten them up, though. I used 4 mushrooms for the same amount of cheese. I only used 2 tablespoons of olive oil, and I used teriyaki sauce instead of soy sauce. We gobbled them up with dilled cucumber spears and vegetable soup. Next time I will try adding chopped tomatoes and sauteed onions under the cheese. Thank you BakinBaby.
Wipe mushroooms ( do not wash) and coat with olive oil (using your hands or brush ).
Place mushrooms in a baking dish that has been wiped with olive oil.
Sprinkle mushrooms with sea salt and fresh ground black pepper and Italian Seasoning.
Pile mozzarella cheese and parmesan cheese on top of each mushroom.
Combine olive oil, vinegar, soy, garlic and black pepper in a small skillet, cook on medium about 2 minute.
Brush glaze on stuffed mushrooms, bake at 350 for about 20-25 minutes. Continue to baste through out cooking time, if any glaze is left, offer at serving time.