Cheese & Spinach Stuffed Meatloaf
Syrinx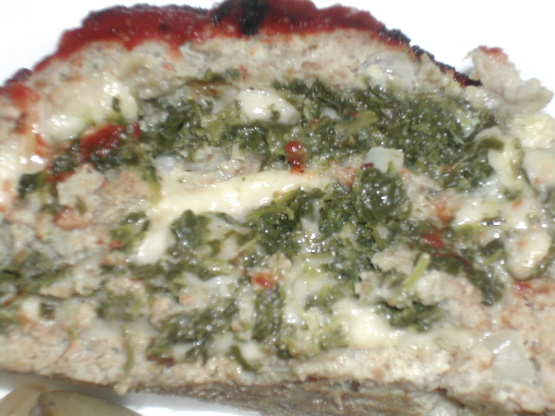 This is one of the best meatloaf I have ever had and it is simple to make! A little note - You can use any mixture you like for the meatloaf itself.

Top Review by Syrinx
Excellent. I am not sure I would describe it as "simple to make", though - rolling it up and transferring it to a baking tray was traumatic, and my meatloaf split and had to be patched. A couple of cracks opened up during cooking, and oozed a bit, but generally speaking it held together well. It tasted very good, and the combination of textures was interesting. I used pork mince for the meatloaf, and the flavours went very well together. After consulting the Cooking Q&A forum, I decided on 10 oz of spinach, and this turned out to be a perfect amount. And I only had room in my meatloaf for about 6 oz of cheese. Delicious recipe, which makes a pleasant change. Reviewed for Pick A Chef, Fall 2007.
MEATLOAF MIX

1

lb ground beef (or any meatloaf mix you like!)

2

eggs
1⁄2 cup breadcrumbs

2

tablespoons italian seasoning
1⁄4 cup chili sauce

2

teaspoons salt

2

teaspoons pepper

2

teaspoons garlic (powder or salt)
1⁄4 cup chopped onion

FILLING

8 -12

ounces cooper sharp cheese (I like the sharp cheeses, alter depending on your own taste)

TOPPING

1

(8 ounce) can tomato paste
Preheat Oven to 350 degrees.
Mix meatloaf ingredients in a large bowl.
Flatten meatloaf mix on a piece of wax paper, mix should be in a rectangle shape about 1/2 thick in wax paper.
Cut cheese in thin slices and place on top of meatloaf mix (being sure to leave about a 1/2 inch without cheese around perimeter).
Microwave frozen spinach according to package information, then drain.
Place spinach on top of cheese making sure to leave perimeter empty.
Take on side of wax paper and roll meatloaf carefully, being sure not to let meatloaf crack while rolling.
After you have rolled the meatloaf pinch the edges to ensure that the cheese/spinach does not leak out while cooking.
Cover entire meatloaf with the can of tomato paste. (You may want to add some italian seasoning to the tomato paste as it is slightly bland).
Bake covered for about 35 - 45 minutes or until desired temperature.