Jenny M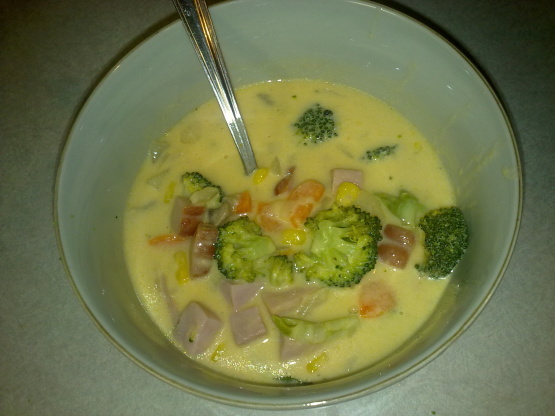 Best comforting, fool-proof chowder! It freezes well, packs up great for lunches, can be doctored to add veg, take away fat or spice it up. It originated about 25 years ago in Cosmo & this is my version that I've made time & time again. Enjoy:) *Note- If it's not cheesy enough, I add a little shaved MacLaren's sharp cheddar. You can also add tobasco to heat it up.
Heat oil in large, heavy bottomed pot over med-high heat.
Cook potato, carrot, onion and mushrooms until tender.
Add garlic & cook another 2 minutes.
Sprinkle flour over & stir to coat.
Slowly add the half & half and chicken broth.
Add all remaining ingredients & turn down heat. Let simmer for 10 minutes.