najwa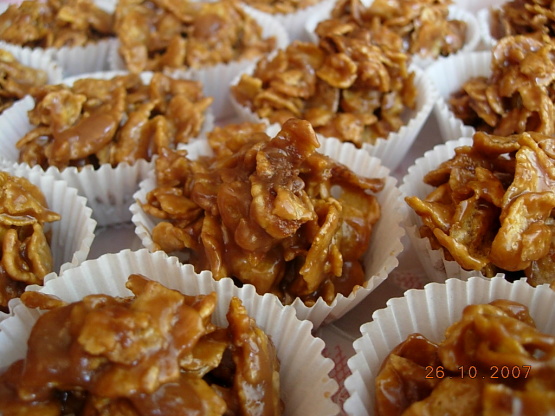 These cereal treats are like rice krispy treats but different and yet very tasty!... you can use any type of cereal you like and can add in dried fruit, chocolate chips, marshmallows, etc. I have made these with many different combinations (such as grape nuts, honey & Nutella and omitting the sugar because it is just sweet without, but play around with it and Just have fun with this recipe!

These tasted lovely, almost toffee tasting - a great twist on the cornflakes cake and very moreish!
4

cups of your favorite cereal
1⁄2 cup corn syrup or 1⁄2 cup honey
1⁄2 cup peanut butter (like Nutella) or 1⁄2 cup chocolate hazelnut spread (like Nutella)
1⁄2 cup sugar, if using corn syrup (or if you want an added sweetness to your recipe)
Line an 8 or 9-inch square baking pan with plastic wrap.
Pour cereal into a large bowl.
In medium saucepan, combine sugar & corn syrup.
Stir occasionally and bring to a boil over medium heat; boil 1 minute.
Remove from heat.
Stir in peanut butter until smooth.
Pour over cereal; stir to coat.
Press evenly into prepared pan.
Cool about 15 to 20 minutes Invert onto cutting board; remove plastic wrap. Cut into bars. (Or you can drop by the teaspoon on wax paper instead of placing into pan).
(For microwave directions, Prepare pan in step 1 as above.
In 2 quart microwavable bowl, combine sugar, corn syrup & peanut butter. Microwave on high, stirring twice, 3 1/2 to 4 minutes or until mixture is smooth and sugar has dissolved. Complete as in step 7 and on).
(You can also drizzle melted chocolate over cereal bars or make a flavored glaze and drizzle over bars, the possibilities are up to you! Have fun!).
For non Apian Vegetarians/Vegans do not use the honey. Ask before making if you are making this for a gift to be sure they consume honey.