Cauliflower in Cheese Sauce
MomLuvs6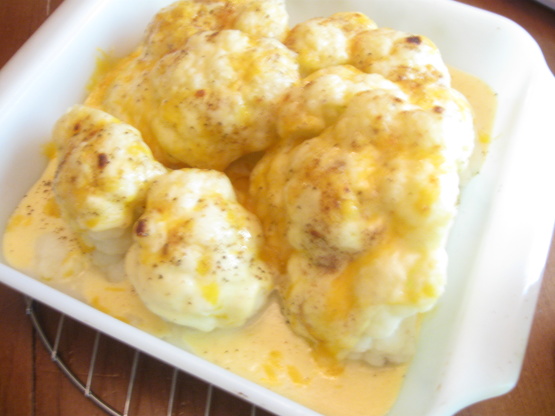 Posted for ZWT-6, this recipe comes from the Usborne Children's World Cookbook that gramma gave my son when he was first learning to cook. Any strong-flavored cheese will work in this recipe, such as cheddar, but if you are looking for an authentic Dutch flavor, choose either Edam or Gouda. The servings, cook & prep time are estimates.
If there was anything to change here perhaps use a little less flour so it's not such a thick sauce and personally I love really soft broccoli and in this case cauliflower so I cooked it longer than the recommended six minutes. This recipe was pretty close to perfect already though. Again, great job.
Remove the leaves from the cauliflower, rinse it well and then cut out the core. Cut the rest into four pieces.
Bring a large pot of salted water to a boil and then add the cauliflower. Cook for 5-6 minutes, or until tender. Drain and put it into an ovenproof casserole dish.
Meanwhile, melt the butter in a saucepan, over low heat.
Add the flour and stir with a wooden spoon to make a smooth paste.
Cook the mixture gently for a minute, then take the pan off the heat.
Stir in the milk, a little at a time.
Return the pan to the heat and let it cook on low for 5-10 minutes, stirring occasionally.
Stir most of the grated cheese into the saucepan to melt. Season it with pinches of the salt, pepper and nutmeg.
When the sauce has melted, pour over the cauliflower and sprinkle the reserved cheese on top.
Place under the broiler for a few minutes and until the top starts to bubble and brown.