Cauliflower and Crab Chowder
Parsley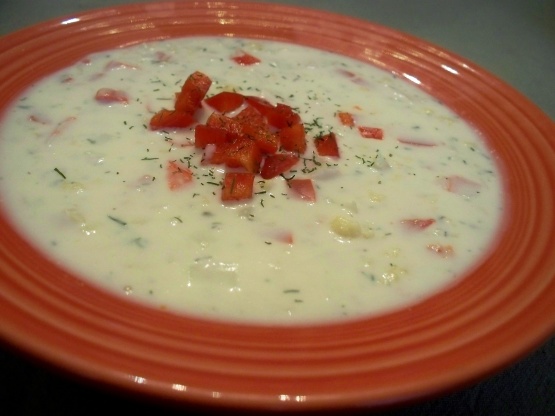 This recipe came from one of Walmarts recipe cards.

This is a very delicious filling chowder, perfect this time of year for warming up little cold tummies. I too initially found this recipe at Wal-Mart and was skeptical about the combination of ingredients, however was pleasantly surprised and wouldn't change anything. I prefer to garnish with fresh dill. Thank you for posting this recipe here, I have been looking for this exact recipe for the past couple years. I have tried other variations and none are quite this good. Thanks again!
In a large saucepan combine cauliflower, broth, bell pepper and lemon peel. Bring to boiling, reduce heat. Cover and simmer 6 to 8 minutes or until cauliflower is crisp tender.
Stir together half and half and flour. Stir into cauliflower mixture. Bring to boiling.
Gently stir in crabmeat. Heat through. Season with salt and pepper to taste. Sprinkle with dill weed, if desired. Serve immediately.