Cashew Chicken Fingers With Curry Mayonnaise
Rita1652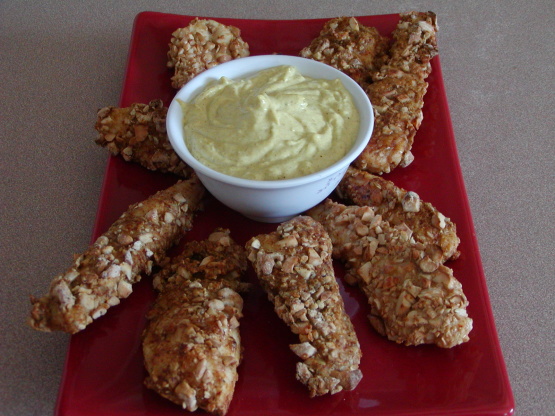 Crispy chicken fingers coated with cashews dipped in spicy curry mayonnaise - yum!! This will serve 4 person as an appetizer, although we did polish off everything between the both of us! NOTE: Measure the cashews before chopping them (I use the PULSE button on my Tefal grinder). I find it's easier to use a pair of chopsticks to roll the chicken in chopped nuts, then transfer to baking pan.

Top Review by mewmew
These were really delicious! I followed this recipe exactly, but I also did not have the garam masala, so I used a little Five Spice. I ground my cashews finely and added about 1/3 C of Panko bread crumbs. I made the curry mayonnaise, but I, too, added some sweet hot mustard (to taste). This will be a favorite dish of ours; I like this better than any chicken finger recipe I have tried. Also, I had plenty left over; I placed them in a zip lock bag and we had them the next night (I just reheated them in the toaster oven so they would stay crisp). Try these; you'll love them!
Combine the first 7 ingredients together in a shallow plate/bowl/ziplock bag; mix well.
Coat the chicken strips with the flour mixture by placing them into the ziplock bag and shaking it, or using chopsticks to dredge them in the plate.
Lightly beat the egg (I put it in a wide soup bowl/plate; it's easier for dipping).
Shaking off excess flour, dip the chicken fingers in the beaten egg.
Immediately, roll the chicken in the crushed cashews to coat; set the nut-coated chicken onto lightly oiled baking pan.
Repeat with remaining chicken.
You may now bake the chicken fingers or chill it in the fridge for a few hours until you're ready to cook (chilling may help the coating to adhere better).
Just before baking, drizzle melted butter/oil over chicken and bake in preheated oven at 400°F / 210°C for 10-15mins, until cooked through and golden brown.
To make sauce: Combine all ingredients in a small bowl and mix well.
You may also serve the chicken fingers with ketchup or sweet Thai chili sauce.