Carrots Cooked With Bacon (Carottes Au Lard)
Nif_H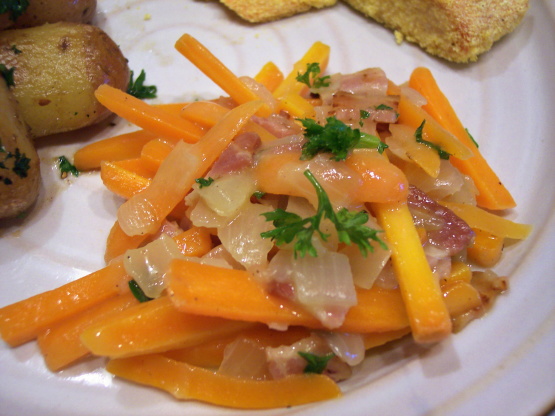 The Belgian Cookbook. ZWT6

These were lovely, the bacon and nutmeg made a tasty difference
Put water on to boil. Cut carrots into matchsticks 1 1/4-inch long. Set aside.
Dice bacon and pour boiling water over it, then drain. Melt butter and add bacon and cook until limp. Add onions, cook until soft and golden.
Add flour and stir, then add water and stir. Add seasoning, salt, pepper, nutmeg and sugar. Next put in carrots, cover and cook on low heat 20 minutes, or until carrots are tender.
Sprinkle with parsley and serve.