Prep 15 mins
Cook 25 mins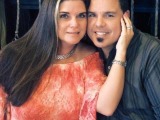 From Bon Appetit, March 2007.
Make and share this Carrot Orzo recipe from Food.com.
Directions
Place carrots in processor.
Using on/off turns, finely chop carrots. Melt butter in heavy medium saucepan over medium heat.
Add orzo and carrots; sauté until orzo is golden, about 5 minutes.
Add 1 1/2 cups water, broth, and garlic; cook uncovered over medium heat until all liquid is absorbed, stirring frequently, about 15-20 minutes.
Stir in cheese, green onions, and rosemary. Season to taste with salt and pepper and serve.
Reviews
Most Helpful
I liked it very much, my husband thought it was a litle bland though...
Veggies and carbs...the perfect balance of foods for thought.

Quite by accident I pre-cooked (boiled) half of the orzo before reading that it was to be sauteed, but I liked the variation in the textures between the two when combined. Also added red pepper just because it was around and getting soft, extra garlic because I'm conditioned by now to do so, and some extra fresh herbs. This is a definite repeater! Note: If you decide to do the split cooking method (boil half/saute half) remember to keep the cooking water to replace the water in the saute method portion for extra starchiness.