Prep 15 mins
Cook 25 mins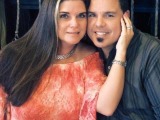 From Bon Appetit, March 2007.
Directions
Place carrots in processor.
Using on/off turns, finely chop carrots. Melt butter in heavy medium saucepan over medium heat.
Add orzo and carrots; sauté until orzo is golden, about 5 minutes.
Add 1 1/2 cups water, broth, and garlic; cook uncovered over medium heat until all liquid is absorbed, stirring frequently, about 15-20 minutes.
Stir in cheese, green onions, and rosemary. Season to taste with salt and pepper and serve.
Reviews
Most Helpful
I liked it very much, my husband thought it was a litle bland though...
This was good for a side dish everyone actually ate! I left out the green onion, though might saute some yellow onion with the carrots and orzo next time. I added extra garlic and a wee bit of dried rosemary as we don't keep fresh. Forgot to add any extra salt and pepper at the end. It probably could've used it, but everyone ate it without, so that works! I made 3/4 of a recipe and that fed my husband and I and 2 littles with quite a bit leftover.
Veggies and carbs...the perfect balance of foods for thought.