Carrot and Cauliflower Casserole
rpgaymer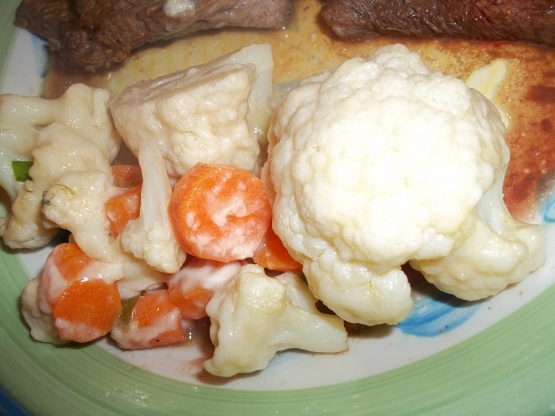 This recipe came from the Holladay 7th Ward Cookbook, and was posted by Jeanne Forsberg. I found this when I had half a head of cauliflower and some carrots, and needed a vegetable side that I thought I could get kids to eat. As usual, cheese comes into play!
I was served this casserole at Jeanne Forsberg's home (author of this recipe) and found in the Holladay 7th Ward Cookbook at Sunday dinner many times. She steamed the entire head of cauliflower and placed it in the middle of a large round platter. She placed the slivered cooked carrots on one side of the cauliflower and then placed cooked peas around on the other side so there was one continuous ring around the head of the cauliflower. The sauce was poured over the top of the cauliflower and put under the broiler until the cheese melted. I have also served this to company many times. It makes a beautiful presentation when served in this original way. It was not all mixed together in a casserole dish!
Cook the carrot in a small amount of boiling water for 8 to 10 minutes or until tender. Drain, and place in a lightly greased 1 quart casserole.
Cook the cauliflower in a small amount of boiling water for 6 to 8 minutes or until tender. Drain. Add the cauliflower to the carrots, and set aside.
Melt the butter in a heavy saucepan over low heat; add flour, stirring until smooth. Cook 1 minute, stirring constantly. Gradually add the broth and cream; cook over medium heat, stirring constantly, until the mixture is thickened and bubbly. (Do not get it too thick). Add 1/2 cup shredded cheese, green onions, and mustard, stirring until the cheese melts.
Pour the sauce over the carrots and cauliflower, stirring gently to coat well. Cover and bake at 350 degrees for 20 minutes or until the mixture is thoroughly heated. Remove the cover and sprinkle with the remaining shredded cheese. Bake an additional 5 minutes or until the cheese melts.