Diana Yen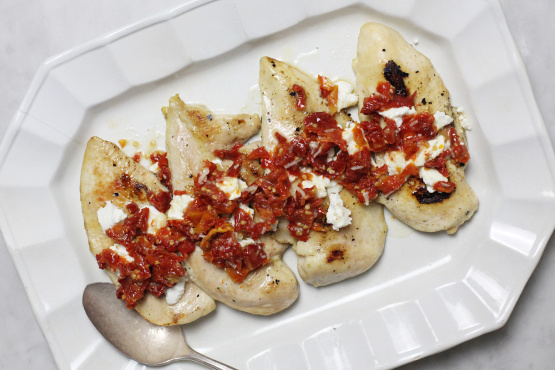 I got this copycat recipe from Algy's Recipe Exchange.

Fantastic!!!! I eat the Chicken Bryan every time I go to Carrabba's ans this is the best recipe for one I can make at home. So amazing!
Saute garlic and onion in 2 Tbls. butter in a large skillet over medium heat until tender.
Stir wine and lemon juice into skillet, increase heat to medium high, and simmer to reduce by half.
Reduce heat to low and stir in cold butter, one slice at a time.
Stir in tomatoes, basil, kosher salt, and white pepper; remove from heat; set aside.
Brush chicken breasts with olive oil and sprinkle with salt and black pepper.
Grill chicken over hot coals 15-20 minutes, or until cooked through.
A couple of minutes before chicken is done, place equal amounts of cheese on each breast Spoon prepared sun-dried tomato sauce over chicken.