Carrabba's Cavatappi Amatriciana (Side Dish Pasta)
mtngurl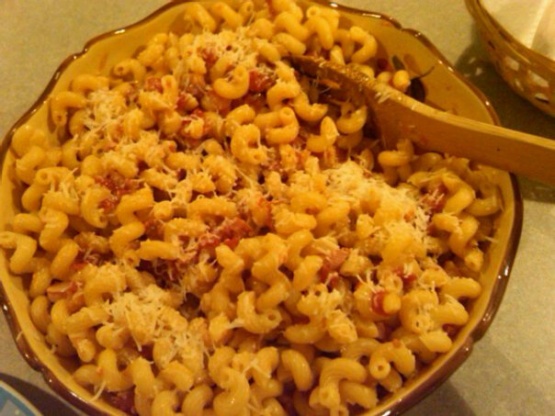 This is an approximate verision of Carrabba's. This is served in the restaurant as a side dish but would be just fine as a main dish when pancetta is added in. Cavatappi pasta is a short tubed corkscrew or S-shaped pasta. It can be hard to find but I was able to find it called "Twists" by the pasta brand DaVinci (blue bag).

Thanks sooo much for posting! This was perfect. My husband always orders this with Chicken Bryan...it's his favorite meal there! So, tonight I made this with Chicken Bryan (Recipe #361631) and he was sooo happy! We both love pancetta so I added it in. I think that it's a must in this recipe. Thanks!
Cook cavatappi according to package directions; drain.
Saute onions, garlic, and red pepper flakes in olive oil over medium heat till onions are soft and translucent.
Add white wine and cook till nearly evaporated.
Stir in tomatoes with their juice till slightly thickened (3-5 minutes).
Taste, and add salt and pepper as desired.
Mix into cooked cavatappi.
Toss with cheese.
Add cooked pancetta (optional).