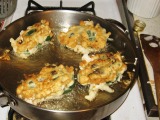 This recipe tops my list of comfort food. A crowd-pleaser, easy, and cheap! I cannot express to you how great these taste so you'll just have to try them yourself. My wife makes them (not often enough) and it's an old family recipe, passed down to her by her mother.
Directions
Mix all ingredients in a tall-sided, round casserole dish and bake at 300 degrees F., uncovered, for 3 hours. Stir at least 2 times during baking.
Serve on hamburger buns with mustard.