Debbwl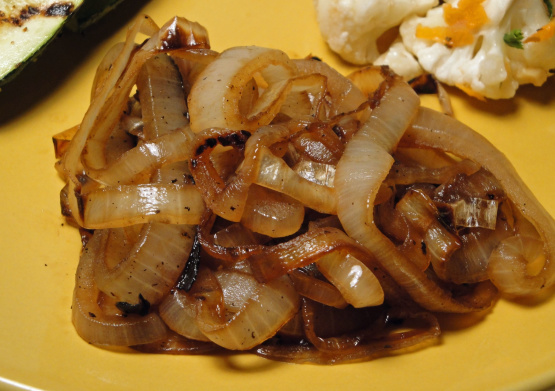 I know that there are several recipes for this out on Zaar, but this is my absolute favorite. I think the balsamic vinegar gives it just the perfect touch. I usually make a huge batch of this and freeze them for easy future use.

Wonderful! I used just a tablespoon of butter. And we have a specialty store nearby that sells flavored balsamic vinegars, so I used the cherry one. My hubby doesn't like onions, but when I added some of these to the spaghetti sauce he asked what was different and then declared it the best sauce he's ever had. Thanks so much for sharing!
Cook onion in hot olive oil in a large skillet over medium-high heat, stirring often, 10 to 12 minutes or until golden.
Sprinkle with sugar, and cook 2 minutes.
Add vinegar and the rest of the ingredients, and cook 2 minutes.
Serve warm or cold.