Caramelized Onion and Cornbread Stuffing
2Bleu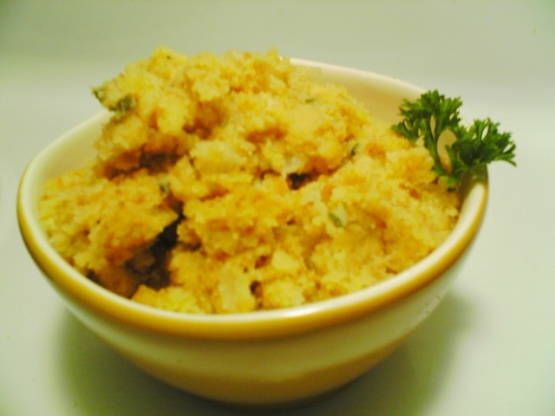 This recipes comes from the Food Network courtesy of Tyler Florence. I made this for Thanksgiving this year. The amount of chicken stock was listed as 1/4 cup, this was cooked in a small pan in the oven and I found that I needed additional for the stuffing to be as moist as we liked.

I've used this recipe for 3 years now and I absolutely love it, as do all who taste it. I do add extraliquid with a little extra stock and a little extra cream.
2

tablespoons butter

2

onions, chopped

6

large corn muffins, cubed
1⁄8-1⁄4 cup fresh sage leaf, chopped

1

egg
1⁄4 cup heavy cream
1⁄4-1⁄2 cup chicken stock, divided
salt & freshly ground black pepper, to taste
Melt the butter over medium heat, add onions and cook until soft and caramelized, stirring frequently, approximately 10 to 15 minutes; stir in the fresh sage.
Pour mixture into a large mixing bowl, add in the cornbread and season well with salt and pepper; toss gently until well combined.
In a small bowl, whisk together the egg, cream and 1/4 cup of chicken stock, pour over the cornbread mixture, stir gently.
If cooking in the turkey, stuff and proceed as per your recipe for roasted turkey.
If cooking outside the bird, spoon the mixture into a 2 quart casserole dish, pour the additional stock over all and place in oven the last 30 minutes that turkey is baking.
Bake until hot and crusty on top.