Nanita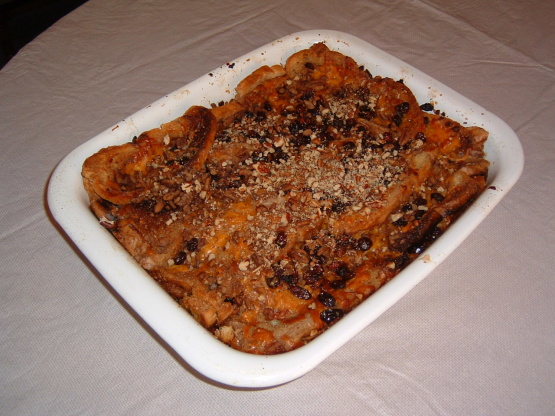 This bread pudding is a Lenten tradition in my family. If you can't find piloncillo where you live (you can buy it in any grocery store in San Antonio) you can substitute 3 cups of brown sugar for the 6 piloncillos (cones of unrefined sugar). Yes, onions and cheese in bread pudding does sound strange, but you'll be surprised at the overall taste of this dish. This is down-home Tex-Mex comfort food!

I wasa looking for a capirotada recipe. And found this one, it is the closest to the one my mom used to make. And I plan to surpriser soon. I will let you know what she says. I know she will be shocked to taste this one. She was kinda pusing me to make some. And I told her I would. Thanks :-)
Combine water, piloncillos, cinnamon sticks and green onions in large pot or dutch oven.
Bring to a boil and cook until the piloncillos are dissolved and the syrup is dark from the spices.
Taste- you may want to add additional brown sugar or spices depending on your personal tastes.
Remove from heat and take out onions and cinnamon sticks.
Toast the french bread (you can do this ahead of time or while the syrup is cooking).
Spread margarine liberally on both sides of toast.
Layer toast, cheese, raisins, and nuts in 2 9X13 pans (preferably glass), repeating until both pans are full, ending with a layer of cheese, raisins and nuts.
Pour the syrup over the top, dividing evenly between both pans, and making sure that all the bread is moistened.
Bake in a 350 degree oven for 30 to 40 minutes.
Serve hot or cold.
Store in the refrigerator.