Axe1678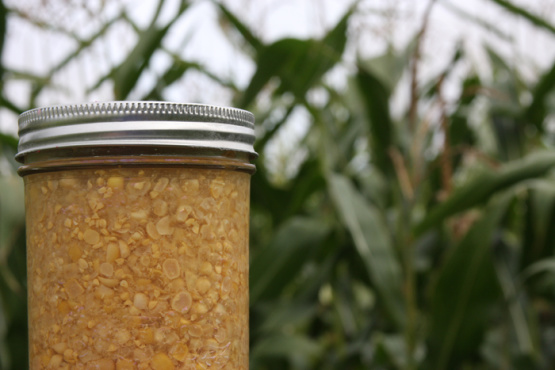 Raw Pack canned corn - adapted from the Ball Blue Book. A great tip I heard here on Zaar is to use an angel food cake pan when cutting the kernels off the cob. Just place the cop on the center point of the pan and cut around the cob...all the kernels fall into the pan beautifully with no mess!

Just opened the first jar of this corn that I canned last fall. It was great. Tasted as fresh as it was before canned. The corn turned out with a slight cruch, unlike the store bought that I find a little mushy.

I poured the jar into a suace pan to reheat and added 2 Tbs of butter. The next can, I will drain some of the liquid off maybe all of it, and add the butter to it before reheating.
Can't wait for next corn season. I will can more with this recipe.
Thanks for posting the recipe.
Husk corn, remove silk and wash.
Cut kernels from cob. Pack loosely into hot jars, leaving 1 inch headspace. Do not shake or press down.
Add 1/2 teaspoon salt to each pint jar, 1 teaspoon salt to each quart jar, if desired.
Ladle boiling water over corn leaving 1 inch headspace.
Remove air bubbles and apply lids.
Process pints 55 minutes, quarts 1 hour and 25 minutes at 10 pounds pressure in a pressure canner.