Caleb's Sausage, Kale & Chickpea Soup
Prep 10 mins
Cook 30 mins

My brother-in-law made this soup for us & it was AMAZING!!! I think he got it from a Canadian Living Magazine....sooo yummy! You could use hot & spicy italian sausage or garlic sausage, etc...the possibilities are endless.
Directions
Heat up oil.
Fry onions, garlic & sausage. Cook til sausages are no longer pink. (about 5 minutes).
Add chicken broth & tomatoes. Bring to a boil.
Add chickpeas, kale, bay leaves & seasonings.
Return to a boil.
Once it reaches boiling, reduce heat.
Cover & simmer 10 minutes.
Serve.
Most Helpful
This was terrific and quite easy to make. I also used chorizo, and made exactly as posted, except I did add a little fresh ground pepper. I also used fresh thyme, because I happened to have it on hand. Thanks for sharing!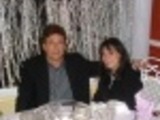 Made this with Chorizo sausage and followed this exactly as its written...used organic tomatoes and kale , rinsed the chickpeas well ....it was amazing !! Served with Easy, fast and hearty
I used 8 ounces (3 links)of andouille sausage. and leftover 3 cups cooked Recipe #364252. I used turkey stock I had frozen, added dried parsley, black pepper and pepper flakes. The chickpeas I rinsed and drained very well to remove any excess salt. I did simmer for 30-40 minutes because we weren`t ready to eat. This was so very good. My DH loved it and he doesn`t do greens. Thanks for the delish healthy good eats!