gailanng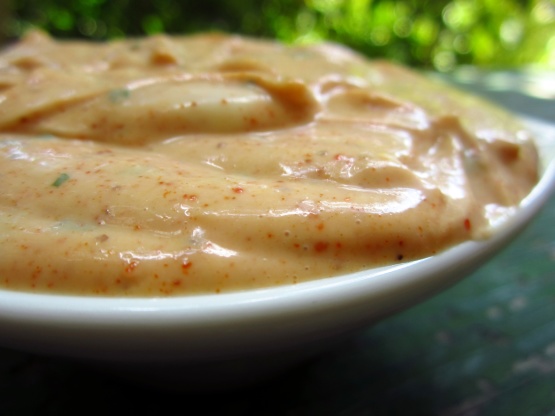 Spicy! Similar to Remoulade Sauce at Rutherford Grill (Napa Valley) for dipping their smoked artichokes. Also excellent for crab cakes and anything fried.
Just wonderful, Remoulader! I made it to serve with dinner tomorrow nght. But after letting it chill a couple of hours and then tasting it, there was no way I could wait that long! Made sandwiches with nothing but squishy-soft bread, a little mayo, thick slices of home-grown tomatoes and a generous amount of the sauce. Heavenly! Although my family is really into spicy foods, I decided to be a little conservative and start out with just a tsp. of cayenne. Just as I suspected, the result could only be called "mild" if a Cajun was defining the term. lol We thought it was the perfect amount of heat for a sandwich spread or any other cold dish, like Shrimp Remoulade. I'm going to add a little more when serving with fried shrimp or crabcakes. But I think anyone with more sensitive tastebuds should cut way back on the cayenne initially and add more cautiously. Thanks again for sharing this recipe! It's going straight into our cookbook of family favorites.
Mix all ingredients well in a mixer.
If you're not sure how spicy you want it, save the cayenne pepper for last and add a little at a time.
Refrigerate overnight.
I usually buy a 16oz jar of mayo, use the whole jar for the sauce, then pour it back into the jar.