taken from piequeen.blogspot.com. They're very moist yet not dense. Not sweet at all, very good and very filling for breakfast. Got 9 muffins out of this recipe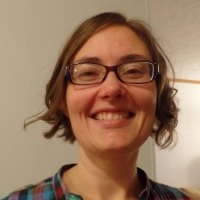 I am not going to give this stars because I made some changes that may have affected the outcome. I omitted the raisins completely and used oat bran instead of wheat bran. I only used 1 cup of whole wheat flour and added a half cup of Quest multi-purpose mix protein powder. I used honey rather than molasses. I followed the recipe instructions. I got 12 muffins, I have no idea how you got 9 muffins unless you were making jumbo muffins. Each muffin cup was filled to the top with muffin batter, I was worried about overflow, but while the muffins did rise, they didn't rise that much. (See picture). The resulting muffins were moist with a larger crumb. However, they are the blandest muffins I have ever tasted. I have made and enjoyed bran muffins before, so it is not that. I like the nutrition, texture, and moistness. So I think I am going to experiment using this as a base recipe to create muffins that are more to my liking taste-wise. Edited to say: These took 18 minutes to bake in my oven.
Grease a 12-cup muffin pan. Preheat your oven to 350 degrees F.
Combine first 5 in a bowl, mix together and set aside for 5 minutes.
Combine dry ingredients in another bowl, sift or mix together well.
Beat together eggs, buttermlk.
Stir dry mix into first mixture. Stir briefly, then add egg mixture. Stir together lightly until just mixed. Fill muffin cups and bake 25 minutes or until muffins spring back lightly when pressed with a fingertip.
Let cool in pan 10 minutes, then serve or let cool on a rack.