Butternut Squash, White Bean and Kale Ragout (Vegan)
shantoth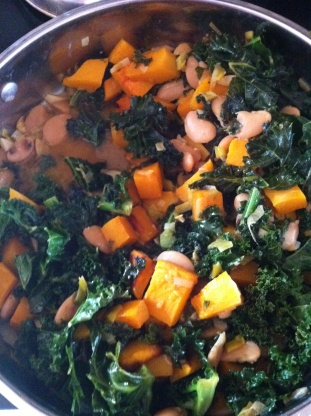 This recipe was originally published in the New York Times and was then adapted for "Best Vegan Recipe's." Hearty and healthy. Great when you're craving veggies in the winter.

I have made this recipe twice, using butter beans, and omitting the cranberries. It is DEE-LICIOUS, and so healthy. Olive oil works fine instead of margarine, and this makes enough to have as an entree for two hungry people, and enough leftover for lunch the next day, if you use a large squash. The size of the squash changes the outcome by quite a lot. Definitely recommended. I ate mine with a little a little adobo sauce, and used chipotle powder instead of cayenne for a smokier flavour.
1360.77

g butternut squash

29.58

ml vegan margarine

29.58

ml maple syrup

12.32

ml cider vinegar

4.92

ml kosher salt, more to taste

4.92

ml ground black pepper

0.25

ml cayenne

29.58

ml extra virgin olive oil

4

large leeks, cleaned and chopped, white and light green parts only

2

large garlic cloves, minced

9.85

ml fresh rosemary, chopped

2

(850.48 g) can cannellini beans, drained and rinsed (or use 3 cups cooked white beans)

473.18

ml vegetable broth

340.19

g kale, center ribs removed, leaves thinly sliced (about 6 cups)

78.07

ml dried cranberries, roughly chopped, plus whole berries for garnish
1. Preheat oven to 425 degrees. Using a vegetable peeler or paring knife, peel pumpkin or squash. Trim stem, then halve pumpkin or squash and scoop out seeds (save for roasting if desired). Cut flesh into 1-inch cubes.
2. Spread cubes out on a large rimmed baking sheet. In small saucepan, combine butter or canola oil, syrup, 1 teaspoon vinegar, kosher salt, 1/2 teaspoon black pepper and cayenne. Cook, stirring, over medium-high heat until butter melts; pour mixture over squash and toss to coat evenly. Roast, tossing occasionally, until pumpkin or squash is very tender and caramelized at edges, about 30 minutes.
3. In a large skillet, warm olive oil over medium heat. Add leeks, garlic, rosemary and a generous pinch of salt. Cook, stirring occasionally, until leeks are very soft and not at all browned, about 15 minutes. Add beans and broth and simmer for 10 minutes.
4. Stir in kale. Simmer until kale is cooked down and very tender, about 10 minutes. Stir in pumpkin or squash and chopped cranberries; season with remaining 1 1/2 teaspoons vinegar and 1/2 teaspoon black pepper. Garnish with additional cranberries and sea salt, and serve.