Butternut Squash Quinoa Casserole
lrn2trvl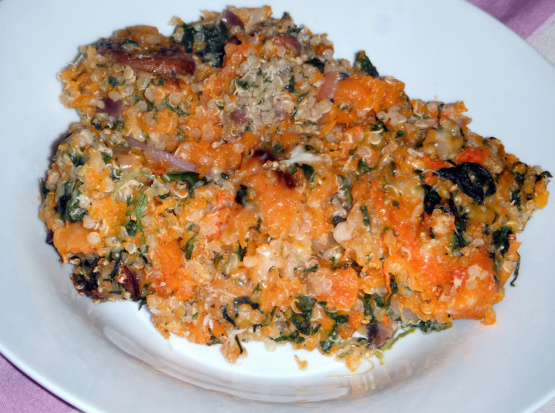 Quinoa with butternut squash; baked with gruyere cheese. I used spinach (because that's what I had), but my sister used kale the other day.

I have made this several times over the past year. I first time I followed the recipe as written. then, one day I was making it and decided to change it by spicing it up. I added peppers some spicy and some mild. Also , I added tex-mex flavoring such as chili powder, cumin, and red pepper flakes. you do have to go a little heavy on the flavors because the squash is sweet. if you go this way change the cheese to a Mexican style cheese or cheddar. I love the recipe but I like it better with the changes too. thank-you
Preheat oven to 400 degrees. Grease 2 quart baking dish.
Cut squash length-wise and bake about 20 mins, until tender.
Rinse quinoa in a fine sieve. Put in pot with water, bring to boil, then simmer about 15mins until water is absorbed. Don't stir until the end.
In a pan cook shallots and onions until tender and browned.
Add garlic and cook 2-3 mins, careful not to burn shallots.
Add onion mixture to cooked quinoa.
Cook mushrooms. I added some herbs de Provence to them.
Add mushrooms to quinoa.
Add salt and pepper to taste.
Beat eggs with a fork then mix with quinoa mixture. Add cheese and spinach.
When squash is done, remove from oven and scrape out of the skin. Mash a little with a fork then mix with beans then mix into quinoa.
Pour into baking dish and bake for 35-45 minutes.