Buffalo Chicken Macaroni and Cheese
lmt425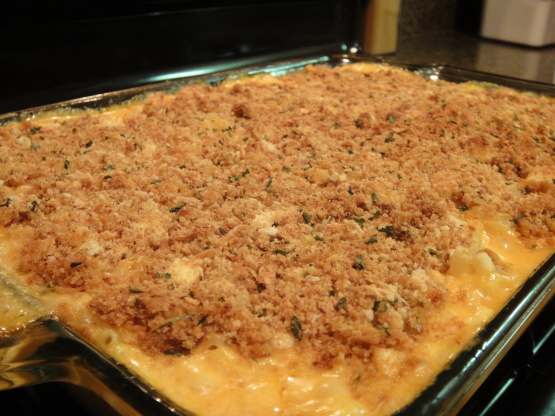 Cut this out of the Food Network Magazine.. Looks like it would be a real winner!

This is an artery clogging, kitchen-dirtying, totally indulgent, sinful meal. I can't eat like that every day, or actually any day! I used 2% cheese, subbed milk for 1/2 and 1/2, and used light sour cream. For what it's worth, my sauce was still creamy and delicious and saved a bunch of calories! I also skipped the pepper jack and used gruyere and swiss instead, because I wanted a stronger cheese taste. However, I thought (and DH agreed) that the hot sauce flavor totally overpowered the taste of the cheese, so frankly I felt like I wasted my cheese! The blue cheese on top was like the icing on the cake- I loved the crunch of the panko and the bite of the blue cheese. A very good combo of two delicious meals!
Preheat the oven to 350 degrees.
Butter a 9 X 13 inch baking dish.
Bring a large pot of salted water to a boil; add the pasta and cook until al dente, about 7 minutes or so. Drain.
Meanwhile, melt 3 T. butter in a large skillet over medium heat. Add the onion and celery and cook untilsoft. About 5 minutes.
Stir in the chicken and garlic and cook 2 minutes, then add 1/2 cup hot sauce and simmer until slightly thickened, about 1 more minute.
Melt 2 T. butter in a saucepan over medium heat. Stir in the flour and mustard with a wooden spoon until smooth. Whisk in the half & half, then add the remaining 1/4 cup hot sauce and stir until thick, about 2 minutes.
Whisk in the cheddar and pepper jack cheeses, then whisk in the sour cream until smooth.
Spread half of the macaroni in the prepared baking dish, then top with the chicken mixture and the remaing macaroni, Pour the cheese sauce evenly on top.
Put the remaining 2 T. butter in a medium microwave safe bowl and microwave until melted. Stir in the panko crumbs, blue cheese and parsley.
Sprinkle over the macaroni and bake until bubbly, 30 to 40 minutes.
Let rest 10 minutes before serving.