Buca Di Beppo Macaroni Rosa (Copycat)
tfalk42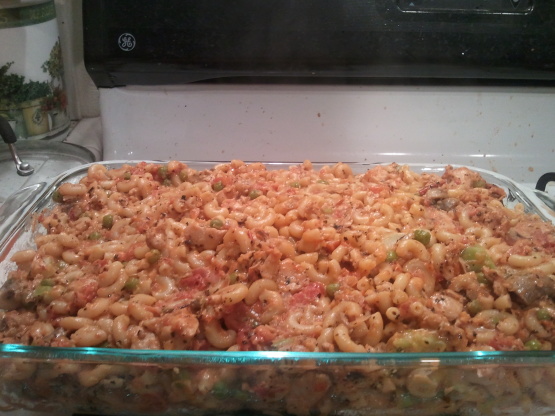 This is another easy, but yummy copycat recipe from one of my favorite restaurants!

Top Review by KateL
3 Stars, excellent restaurant-quality taste, but ingredients listing and directions need improvement. If begin with cooked chicken tenders, the chicken would be way overcooked by serving time; restaurant's version of recipe given to Sun Times newspaper October 14, 1998 (http://www.suntimes.com/recipes/pasta/47761,macaronirosa.recipe#) clarifies preparation of ingredients, and pares down amounts for brushetta to amount actually needed for the recipe. After adding in marinara sauce and cream, this should be brought just to a boil and then lowered to a simmer and covered for about 10 minutes to help the sauce reduce by a third efficiently. I lowered fine mesh colander with pasta and broccoli into boiling water for 3 seconds, allowing me to remove all completely for final draining. This was so good I will experiment with more diet-conscious versions, but if they aren't as good, I guess I'll just have to make an exception! By the way, my photo shows the entire recipe, piled on a 12" x 12" plate -- does that look like just 2 servings to you??? This amount is what the restaurant calls a small order for 2 (maybe 3) people, but this will feed at least 5 people. I'm more likely to increase the proportion of chicken next time, since I can't eat all that pasta. Because I had 8 ounces of farfalle pasta on hand, that's what I used, I think it looks a tad fancier, somehow. Thanks for posting, Cook4_6. Made for 1-2-3 Hit Wonders.
226.79

g macaroni, cooked

85.04

g olive oil

226.79

g mushrooms, quartered

170.09

g cooked chicken breast strips

85.04

g peas

453.59

g marinara sauce

170.09

g cream

170.09

g broccoli, buds

28.34

g basil, for brushetta mix

3.69

ml salt, for brushetta mix

56.69

g olive oil, for brushetta mix

3.69

ml fresh ground black pepper, for brushetta mix

56.69

g garlic, peeled chopped for brushetta mix

113.39

g red onions, for brushetta mix

453.59

g roma tomato, for brushetta mix

158.51

ml grated romano cheese
Add all the ingredients together listed for brushetta. Set aside.
Heat olive oil in a large sauté pan.
Add mushrooms and chicken tenders. Sauté until chicken starts to brown along the edges.
Add marinara and cream and reduce by a third.
Add 4 oz of bruschetta mix and peas. Cook for three minutes. (Refrigerate the remaining brushetta mix to serve over toasted Italian bread with fresh mozzarella).
Drop macaroni and broccoli buds in boiling water for three seconds.
Drain and toss in sauce along with Romano cheese and serve on a large platter.