Brussels Sprouts with Pecans
Bergy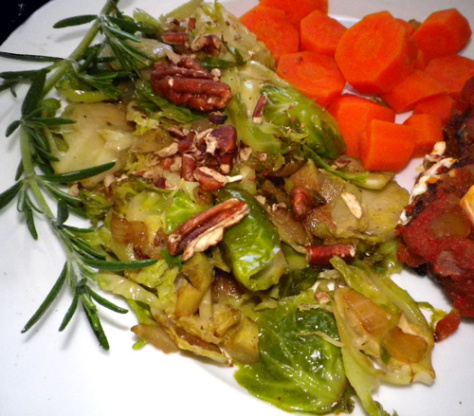 A new, more exciting way to eat "baby cabbages". It helps that it is also lower in fat and has less sodium. Might as well make them TOTALLY good for you! From Cooking Light Magazine. (I really am trying to keep my New Years resolution!)

Good job! I have NEVER eaten brussel sprouts before in my 28 year old life because I've heard such awful things about them but I've had such great luck on recipezaar that I thought I'd be adventurous. I nibbled one before I cooked this and thought "God help me" but Kari you are a great chef. I had to improvise a bit since I had walnuts and not pecans but this was still very enjoyable. Thank you for adding another vegetable to my "like these" list!
Melt butter in skillet.
Add onion and garlic and saute until lightly browned.
Stir in sprouts, saute 2 minutes.
Add broth and sugar, cooking until liquid is almost evaporated, stirring frequently.
Add salt, sprinkle with pecans and serve.