Brussels Sprouts in Onion Butter
Parsley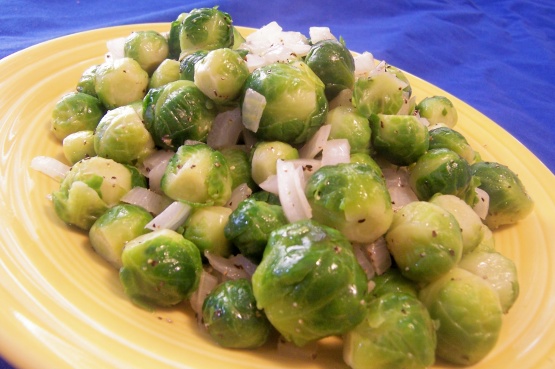 A great way to serve Brussels Sprouts using chicken broth and onions. Very tasty. I've had this recipe for years, have no idea where it came from.

Top Review by Ms B.
My brussels sprouts were HUGE. Therefore, I cut them in half before cooking in the chicken broth. The broth added such a great flavor to the sprouts and the onion butter was a great addition. I did use much less butter, but this did not affect my finished dish in the least.
Melt butter, cook onions until soft.
Add the lemon juice.
You can do this and then place in fridge until later.
Just before serving, cook brussels sprouts in chicken broth.
5-8 minutes for frozen.
10 minutes for fresh.
Drain liquid and add onion butter.
Season to taste.