Brussels Sprouts & Apple Salad
Boomette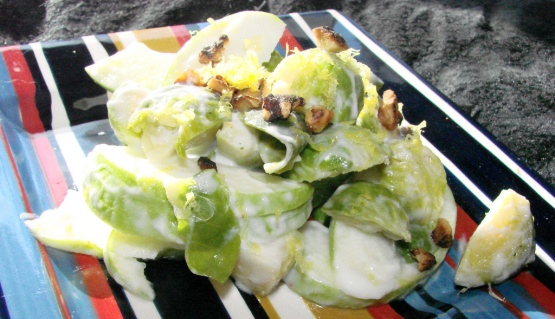 I made this recipe from the Healthy Heart Cookbook. This is really good and with just a few calories. Brussels sprouts are in prime form when the heads are hard and the leaves tighly bunched. If you can't find them fresh, thawed frozen sprouts work well in this tangy, crunchy salad.

I absolutely love brussels sprouts, and love apples so thought I would be amazed with this recipe. But the mix just didn't seem to work for me. It looks very pretty, but the taste just wasn't there for me. I may try it with a less tart apple next time....I used Granny Smith.
Put the walnuts in a small, dry frying pan over medium-high heat. Cook, stirring often, until fragrant and lightly toasted, 3-5 minutes. Immediately transfer to a plate to cool and set aside.
In a large bowl, whisk together the yogurt, maple syrup, salt, pepper, and 1 teaspoon of the lemon juice. In a small bowl, toss the apple slices with the remaining 1 teaspoon lemon juice and stir into the yogurt mixture. Set aside.
In a saucepan fitted with a steamer basket, bring 1 inch of water to a boil. Add the brussels sprouts and steam until tender-crisp, about 4 minutes. Let cool slightly.
Add the brussels sprouts to the bowl with the yogurt mixture and apples and toss gently to coat.
Divide the salad among individual plates and sprinkle with the lemon zest and toasted walnuts. Serve immediately.