alligirl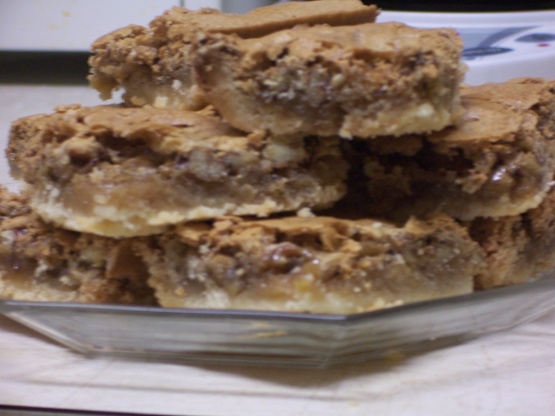 Decadent brown sugar and pecans on a shortbread crust -- like mini pecan pies in a melt-in-your-mouth bite! This recipe was my mother's and the squares are a hit wherever I take them. The dessert dish always goes home empty. I usually use pecans, but other nuts can work also.
Beat crust ingredients together until crumbly (mixer works well).
Press mixture into a 9x13 baking pan (glass works fine).
Bake for 20 minutes at 350 degrees.
In a separate bowl, combine eggs, brown sugar, vanilla and chopped nuts. Pour over baked crust base and bake another 20 minutes.
Cut into squares when cool.