Brown Sugar-Pecan Coffee Cake
Prep 15 mins
Cook 30 mins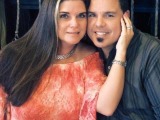 From Southern Living December 2006 test kitchen's top rated recipes.
Directions
Stir together flour and brown sugar in a large bowl.
Cut 3/4 cup butter into flour mixture with a pastry blender or 2 forks until crumbly. Press 2 3/4 cups crumb mixture evenly on the bottom of a lightly greased 13- x 9-inch pan.
Stir together sour cream, egg, and baking soda; add to remaining crumb mixture, stirring just until dry ingredients are moistened.
Stir together granulated sugar and cinnamon.
Pour sour cream mixture over crumb crust in pan; sprinkle evenly with cinnamon mixture and pecans.
Bake at 350° for 25 to 30 minutes or until a wooden pick inserted into center comes out clean.
Reviews
Most Helpful
This is THE best coffee cake we've ever had. I wish I could give it more than 5 stars. My DH and sons raved about it. It has a fabulous almost crunchy crust and the cake part is so moist and full of flavor. This is one of those cakes that you just can't stop eating so don't make this if you are on a diet! LOL The pecans on top also make this a delicious dessert. This is definitely a keeper (my DH even said so, too). Thanks for posting another winner, Juenessa!
i made this and took it to work today. everyone loved it and requested the recipe. it was very sweet and buttery. would probably also be good with some blueberries on top.
I love this recipe so much that I tried posting it here and it got bumped because you already had it posted. I'm glad I'm not the only one who was wowed by this coffee cake! Thanks for posting!