Derf2440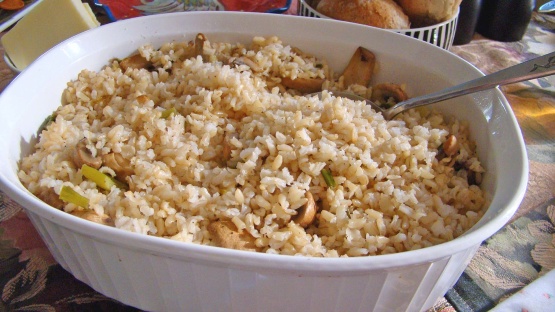 Make the rice ahead of time. The rest takes less than 10 minutes to complete. Very pretty

Tarynne, YOU absolutely made my day! What a fantastic lunch I had today - all thanks to you and this addictive rice of yours. I used 1 cup of cooked brown rice, 1/4 cup of green onions(finely chopped) and 1/2 cup of mushrooms(thinly sliced). It was so wonderful to eat this rice. I served it on a bed of iceberg lettuce and topped it off with a dollop of fresh yogurt. It will also go GREAT with cucumber and onion raita. It is just so delicious and addictive. We (mom and myself) enjoyed it to the fullest. Had some carrots and cucumbers for salad alongwith this and it was a meal all my itself! THANK YOU!!!
Cook mushrooms and onions in Butter until tender.
Add rice.
Toss lightly.
Heat thoroughly.
Note: Use Beef or chicken broth to cook rice in for a heartier flavor.