Broccoli With Garlic-Herb Butter

This is a recipe from my 2008 Weight Watchers cookbook that we really enjoyed. I altered it slightly for our taste. It's a nice way to enjoy broccoli without all the cheese sauce. It's got a nice bite to it too. Feel free to leave out the crushed red pepper flakes. The frozen steam bags of broccoli work well with this recipe.
Directions
Place butter in a small microwave safe dish.
Microwave on high for 30 seconds or until melted.
Stir in parsley, garlic, pepper and red pepper flakes.
Place broccoli florets in a large microwave safe bowl.
Add 2 tablespoons water, and cover with wax paper.
Microwave on High 5 minutes or until crisp-tender.
Drain well.
Add butter mixture and salt to taste.
Toss gently to coat.
Most Helpful
This is a really great variation on broccoli. I really loved the garlic flavor! Also, the hint of spiciness was really nice. Thank you for posting! :)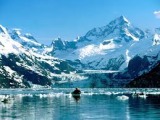 Nice way to add some flavor to a broccoli side dish. In the future, I would use fresh broccoli instead of frozen.

I steamed fresh broccoli and them stirred everything. We really enjoyed it. The garlic butter taste is great. Thanks Nimz :) Made for PAC spring 2011