jswinks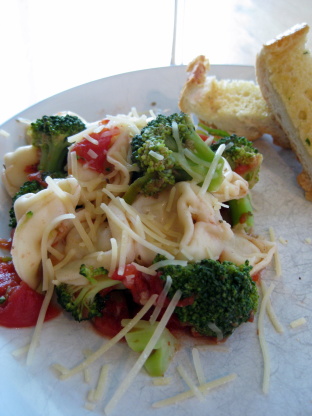 This is a great vegetarian pasta dish from Canadian Living's Make It Tonight. All you need is a crunchy green salad and you've got dinner.

this was very good although I did the directions a little different that stated I sauteed the diced tomato with garlic, oregano and chili flakes in some olive oil, then added in the steamed broccoli, tortellini and green onions at the end of cooking, we enjoyed this thanks Dreamer!
Cook tortellini in a large pot of boiling water until tender but firm (about 5 min).
Add broccoli and cook until tender (about 3 min).
Drain.
In a large saucepan or Dutch oven, combine tomatoes, garlic, oregano, salt and pepper.
Bring to a boil, reduce heat and simmer, stirring occasionally, until sauce has thickened slightly (about 10 min).
Add green onions and cook 2 more minutes.
Add sauce to pasta/broccoli mixture and toss together.
Sprinkle with Parmesan and serve.