Broccoli Cheese Rice Casserole
Shawn C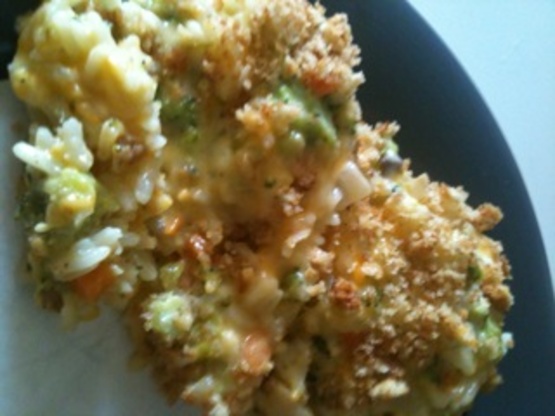 FAMILY FAVORITE! A great casserole to have with any entree. My hubby loves this dish. Full of flavor and easy to prepare!

OMG this was soooooo good! I found this recipe by total accident. I received my email from Food.com for different casserole dishes, not into casseroles and in the bottom of the page was your recipe title. Looked interesting so I checked it out. Had all the ingredients in the house, looked easy to make. Went perfect with chicken. Followed recipe as written. Will agree on a couple of comments, would love to try stuffing on the top, and also not use minute rice, use the real deal. My husband ate three servings and took the rest for lunch today! The one thing I would change in your instructions is to use a 1 1/2 quart not a one quart baking dish. I knew once I mixed it that it would not fit. It's a keeper!!!!! Will def make again!
Saute onion in olive oil and set aside.
Boil broccoli florets in water for 3 minutes. Drain and chop into pieces.
Mix broccoli with cream of chicken soup, prepared instant rice, onions and cheddar cheese. Pour into a one quart size baking dish.
Mix crackers crumbs with butter and sprinkle on top.
Bake in a 350 degree oven for 30 minutes or until bubbly around edges.