Very creamy and a little cheesy. Great way to get kids to eat broccoli! This recipe is adapted from Taste of Home. You can use fresh or frozen broccoli in this.
Directions
Cook pasta according to package directions and drain.
Meanwhile, steam broccoli until tender, but still crisp, about 5 minutes, and drain.
In a large saucepan, melt butter over medium heat.
Whisk in flour until smooth.
Gradually whisk in milk.
Bring to a boil, and cook and stir for 2 minutes or until thickened.
Season with salt and pepper.
Remove from heat and stir in the cheese and broccoli.
Toss with the pasta to coat.
Reviews
Most Helpful
This was a very fast and easy recipe. I added about 3 cloves garlic, reduced the butter to about 2 tablespoons, sprinkled liberally with salt and mixed with 8 ounces fettucini. I used whole milk, and the results were very creamy and delicious. Although I could see why some people might prefer half-and-half, I wouldn't because I don't like the extra fat. I steamed the broccoli over the pasta while it was cooking. In 5 minutes it was tender but still very green in color. Great recipe!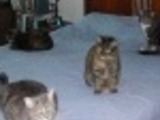 I loved this recipe. I also added 2 cloves of garlic and should have added a third. I added grilled chicken to this dish and my whole family loved it. Will definitly be making this again.
Kids love it! I actually puree my broccolli after steaming and incorporate in the sauce before pouring over the noodles...for the kids sake. Great way to get them to eat up their veggies. I do add garlic as others have suggested and am very liberal with the salt otherwise it is kinda bland. It is a great starter recipe that you could add all kinds of things to...sauteed onions, mushrooms, red pepper flakes, cubed ham, whatever you'd like. Definetely a staple in my house!