Breidi's Italian-Seasoned Roast Beef
Nif_H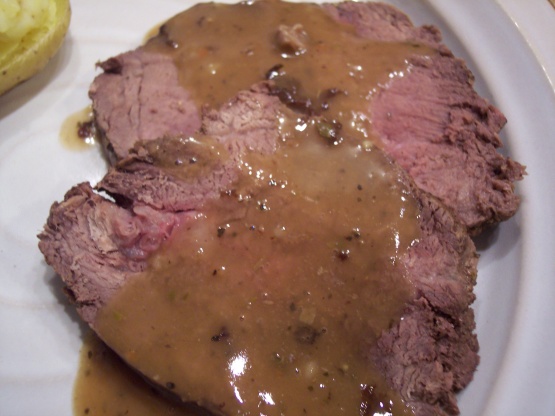 This divine recipe was given to us from our friends Brian and Heidi (Breidi). Easy to make and mouthwatering to boot! A crowd-pleaser that goes great with mashed potatoes or rice. Sirloin tip roast is preferred but you can use whatever kind of roast you like.

Top Review by Nif_H
How can I add more stars? If there is a way, I'd be adding more onto this review! This was delicious! I didn't cook it as long as stated because I like my beef rare. I added a couple of tablespoons of flour and thickened up the sauce for a really good Italian gravy. My husband is still commenting on dinner! I will be making this again FOR SURE. Made for TYM tag. Thanks Hadice! :)
In an oven safe pot on the stove top, brown the roast in some olive oil.
After the meat is nicely browned, add enough water to barely cover the bottom of the pot.
Cover and place in a 325 degree oven for about 2 and a half hours. While roasting, mix together remaining ingredients and set aside.
Remove pot from oven and add reserved mixture, you may need to remove some juices to make room. I prefer to use a smaller pot and try to cover the meat completely.
Cover the pot and place it back in the oven for approximately one hour. When a fork twists easily in the meat it is done.
Enjoy!