diner524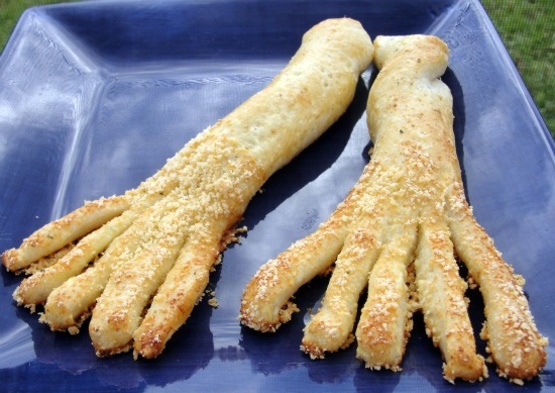 What witch could resist these easy broomsticks?

Pretty much made these as given, & did include the garlic powder! However, after the brooms were made, I did cut the handle so that it was a bit slimmer! Still, however it's done, the idea is great, & they taste just as good, too! [Tagged & made in Please Review My Recipe]
Preheat oven to 375°F.
Unroll dough and divide along perforations.
For each broomstick, shape breadstick into 8 X 1-1/2-inch strip; twist one end for handle. Cut 5 or 6 slits (2 inches long) into opposite end; separate dough at slits for bristles of broom.
Brush egg over dough.
Sprinkle parmesan cheese over the bristles. If using garlic powder sprinkle over the parmesan cheese.
Place about 2 inches apart on ungreased baking sheets.
Bake 15 minutes or until golden brown.