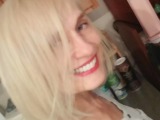 This is a classic flat bread of India. We have this almost every time we cook an Indian meal. This is based on a recipe from Madge Rosenberg's The Best Bread Machine Cookbook Ever -- Ethnic Breads .
Directions
Add all ingredients except the butter and black sesame seeds in the order recommended for your bread machine. Process using the dough cycle.
Preheat the oven to 450 degrees F. When the dough cycle ends, remove the dough from the machine and divide into 8 pieces. On a floured surface with a floured rolling pin, roll each piece into an 8-by-4-inch oval. Cover and let rise 20 minutes, or until doubled.
Melt the butter for the topping. Brush the top of each naan with butter and sprinkle witht sesame seeds. Bake 7 to 10 minutes, or until golden. Lightly brush the bottom of each naan with water, stack, and cover, or eat as soon as they are cool enough to handle.