Easy Naan (Bread Machine)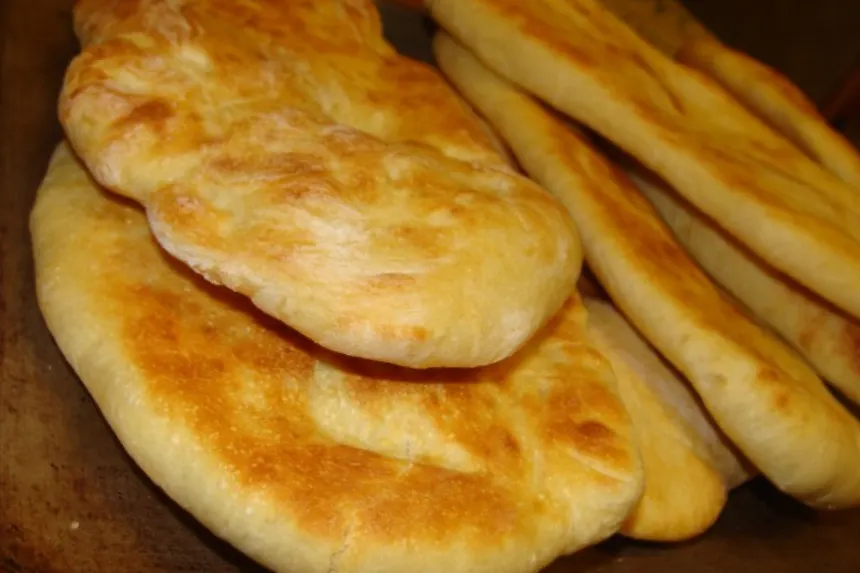 photo by yamakarasu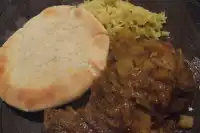 Ready In:

2hrs 4mins

Ingredients:

7
directions
Add ingredients to the bread pan according to the manufacturer's directions.
Set Cycle: dough; Loaf size: 2 lb.
After about 5 minutes, check the dough; add a tablespoon of water at a time if too dry, or a tablespoon of flour at a time if too wet.
Preheat oven to 450F, put 2 baking sheets in to heat for 10 minutes (this will help the naan to puff up and brown).
When dough cycle is done, turn dough onto a floured surface and punch down; Divide into 8 pieces.
Working one at a time, with the other pieces covered, roll dough out to a thickness of about 1/4 inch.
Bake for about 4 minutes, until puffed up.
Brown tops under the broiler, then wrap in a towel to keep warm while cooking the remaining naan.
These freeze very well.
Reviews
This was amazing! I love the Naan I get at the local Indian place, but to me this was just as good. I used greek yogurt, and as a result, I needed to add a couple of tablespoons of water in the first few minutes of mixing. I also cut the recipe in half, which gave me 4 beautiful pieces of bread. The texture was perfect- light and fluffy, with just a little chew. Just to be different, I added a couple cloves of minced garlic, and loved the result. This will definitely be a go-to for the next Indian meal I make.

 

Authentic naan bread is made in a Tandoor oven, so I knew this version wasn't going to have quite the same flavor as something you'd get at an Indian grocer or in a restaurant. However, since our closest Indian grocer is 1 1/2 hours away I wanted to have a recipe I could use in a pinch since I cook Indian food all the time.<br/><br/>I think this recipe is a great substitute for the real thing. The texture is really close to a traditional naan and the flavor is nice, and even though it isn't "authentic," in the absence of a real Tandoor oven this bread is still a good complement to any homemade Indian curry.<br/><br/>I did not have any trouble with the dough in my bread machine, just as a side note since at least one other poster seems to have had that concern. I do have a brand new machine, though.<br/><br/>Thank you for posting, I will be making this again!

 

I'm almost scared to make this again because my bread machine did NOT like dealing with this dough, no matter how much water I added. It was really straining and buzzing and really just fighting with it the entire time. So the first hour and a bit was frightful, but once I got it out of there (the bread machine seems to have survived, whew) it was fairly smooth sailing the rest of the way. I'd definitely add some garlic or some extra seasoning to give the bread some more interesting flavours. I got huge, fluffy naan so it ended up well at least. Thanks!

 
RECIPE SUBMITTED BY
Hi .. The pic is of my beautiful son, born on 2/5/2005. His name is Tariq, meaning Bright Star. As I type this, he is blowing bubbles in his water cup and watching cartoons. He whined to get this water for 15 mins and now he won't drink it, he will only play with it. Sigh.. A few days ago he came up with this song, so sing along to the tune of "Old McDonald" : Old McTariq Laq Laq Laq E I E I OOOOOO LOL I thought it was the cutest thing :-) When I'm not running around after my son, or cleaning up the mess he makes wherever he goes, I cook and bake (my husband loves the blueberry muffins I make) and I love trying new recipes .. I also love to read, and collect sci-fi/fantasy novels .. I have over 500 books and still counting ..
View Full Profile