teresas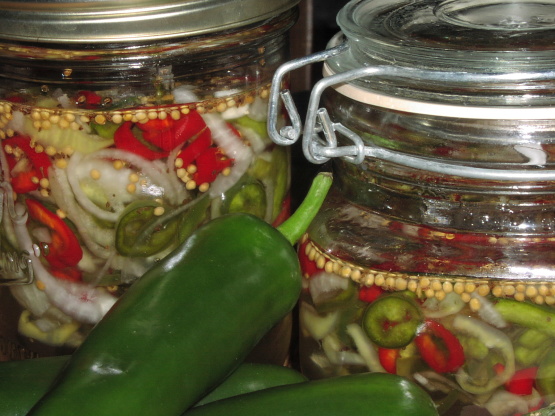 Forget Peter Piper, try Starr Milam's recipe. Published in Country Woman and posting here for safe keeping. The crunchy mix of sliced peppers gives a kick to salads, side dishes, and sandwich toppings. Cooking time includes the 2 hours for standing time. Guessing at number of servings. Chef #1391468 I do think you could find these peppers all year round (at least in AZ) and that is why I posted them here. This recipe took the grand prize for that issue.

Yummy! Love the sweet hot combination...I couldn't locate the banana peppers so used a few yellow chili peppers and some red chili peppers for added heat...and color...I'm not surprised at not being able to locate the banana peppers...the first store I went to didn't even have jalapenos...now that should tell you something...I think there is way too much brine...but I could be wrong...planning to reuse it to see what happens...I'm going to serve this along side of some hamburger patties I'm going to be making...thanks for posting it...:)
In a large bowl, combine the peppers, onion, and salt; top with ice cubes.
Let stand for 2 hours.
Rinse and drain well.
In a large saucepan, combine the sugar, vinegar, mustard seed, and celery seed.
Bring to a boil; cook and stir until sugar is dissolved.
Pour over pepper mixture; cool.
Pour into sterilized pint jars, cover tightly, and refrigerate for at least 24 hours. Store in refrigerator for up to 3 months.