Brazilian Vegetable Curry With Spicy Tomato and Coconut Sauce
Veghedge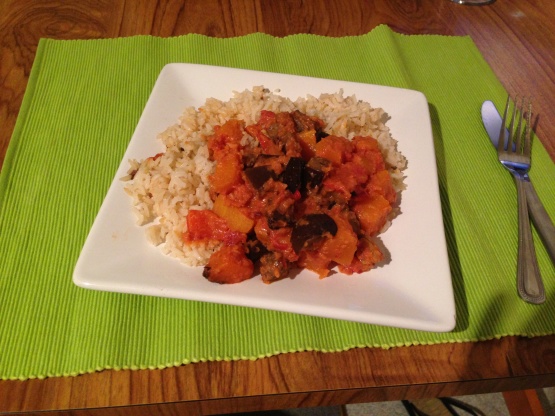 Very, very easy to double for large numbers of people. It can be served with rice or large flat breads for people to tear bits off and scoop up the curry. It can be frozen once cooked and cooled and the vegetables can be subbed 6 chicken breasts if you so desire.

The whole family liked this recipe. I completely changed the veg and also added 2 teaspoons of garam masala to suit the tastes in our family! One to repeat.
Toss veg in a roasting tin with 2 tbsp of the the oil. Roast at 200C for 40 minutes.
Meanwhile begin making the sauce.
Put the chilli, garlic, ginger and onion in a food processor and process to a rough paste.
Heat the remaining oil and fry the onion paste until the onions have softened. Add the tomatoes and simmer for 10 minutes.
Add the coconut cream and and cook for another 5 mins, if the sauce becomes too thick, thin with a little water, leave to one side until the veg is ready.
When the veg is ready add the veg and the chickpeas to the sauce and heat through.