Braised Mediterranean Chicken With Polenta
IngridH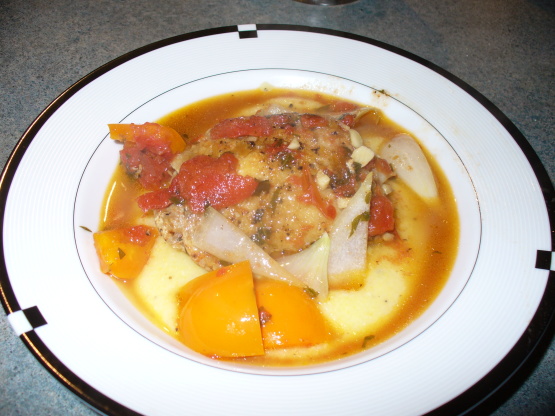 An everyday, one dish meal. You can make the polenta more flavorful by using chicken broth and grated parmesan (about 1/3 cup) instead of water.

This had really great flavor! I cut the recipe in half, and still got plenty for two dinners, with leftovers for lunch (we only tend to eat one piece of chicken at a meal). I used chicken broth in the polenta, and finished it with parmesan cheese. I didn't have any zucchini, so I substituted orange bell pepper and large chucks of onion, which we thought were great. Next time I think I'll add artichoke hearts as well. Our only complaint about this recipe was that the sauce ended up being too liquidy. The tomatoes basically disintegrated, leaving a lot of flavor, but no substance, and we would have liked this a bit more chunky. Overall, very good, and I'll definitely make again. Thanks for posting!
Use a Dutch oven to heat oil.
Season the chicken with the salt and pepper.
Brown chicken on all sides in batches (about 8 minutes per batch).
Drain the fat, but reserve 1 tablespoon and return the pot to heat.
Cook garlic, tomatoes and oregano about 30 seconds.
Add wine and scrape up the browned bits for 1 minute.
Add broth and chicken to the pot and bring to a boil. Reduce to a simmer, cover and cook for 15 minutes.
Add the zucchini and season again with salt and pepper.
Cover and simmer for an additional 15 minutes before stirring in lemon juice.
Meanwhile, combine 4 1/2 cups of water, 1 1/2 tsp salt and 1/4 tsp pepper in a large saucepan and bring to a boil. Slowly whisk in cornmeal. Reduce heat to medium-low and cook, whisking frequently for 20-25 minutes. Whisk in butter.