Braised Lamb Shanks With Barley
JustJanS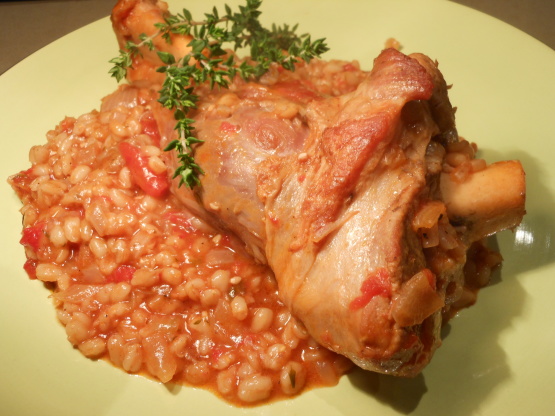 This is a recipe of my mother, Mary Marble Wettergreen, which she often prepared in the oven. But I have found that lamb shanks are ideally suited to the crockpot,. Assemble the crockpot version the night before or very early in the morning.

I can't believe I didn't spot this recipe over all the years I've been here and all the times I've looked for lamb shank recipes! This was ever so simple and really, really yummy comfort food that I highly recommend to other lamb lovers. I added in a teaspoon of brown sugar, heaps of black pepper and used fresh thyme instead of dried. I checked it a couple of times as it cooked and added a bit more water (maybe 3/4 cup in total) each time.
In heavy skillet or dutch oven, brown lamb shanks in hot olive oil. Remove shanks and set aside.
Saute onion, garlic and spices in oil until onion is soft.
At this point you can transfer the entire dish to the crock pot, or cook it in the dutch oven. Add salt, barley, tomatoes, tomato paste, water (and wine if desired) to shanks. Make sure all the barley is immersed in liquid.
TO BAKE: Cover Dutch oven closely and bake in a 325 degree oven for 3 hours or until shanks are very tender and falling off the bone.
CROCKPOT: Cook the dish on "Low" for at least 8 hours. I found it easiest to assemble the night before and then just plug in the crockpot when I leave for work in the morning.
In either case, turn off the heat and let the dish sit uncovered for 10-20 minutes. Use a tablespoon and skim off any excess fat from the top before serving.