Braised Lamb Shanks With Garlic and Rosemary (Crock Pot)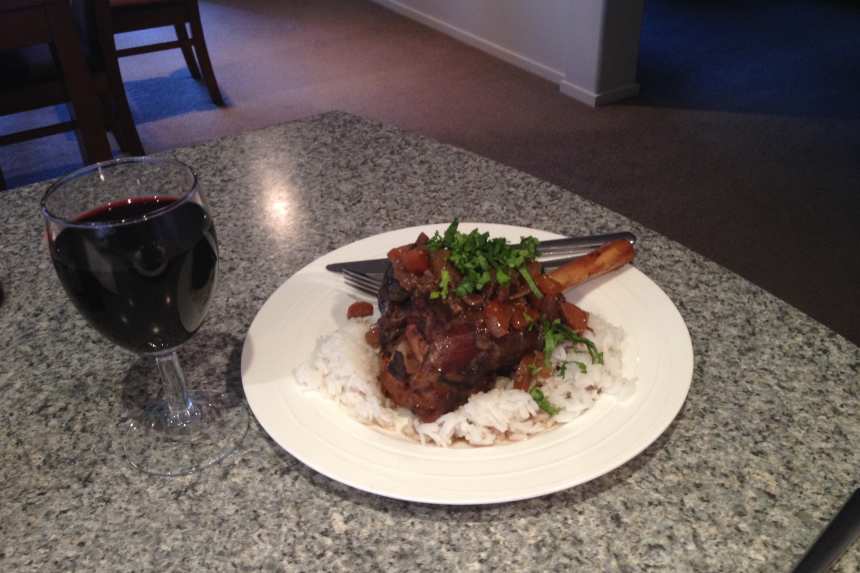 photo by Kiwi Kathy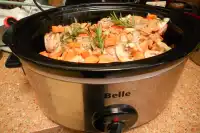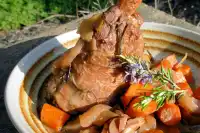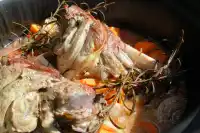 Ready In:

12hrs 10mins

Ingredients:

10
directions
Combine the red wine, Dijon mustard, salt, pepper in a small dish. Place the lamb shanks in the crock pot.
Scatter the remaining ingredients around and on top of the shanks. Cover and cook on high for 6 hours. Use tongs to reverse the position of the shanks, top to bottom. Reduce the setting to low and cook for an additional 6 hours.
Using a slotted spoon to transfer the shanks to a serving platter. Skim the fat from the cooking juices, taste and add salt and pepper, if needed.
Pour the juices over the shanks, and serve.
Reviews
The recipe is fantastic! Favors are well balanced. The aroma while cooking is awesome. I highly recommend making sure you use fresh ingredients like garlic and rosemary, it made a difference. My only critique is that the recipe does not require 12 hours of cooking. After 5 hours on high in the crock pot, this recipe was falling off the bone tender. I'd say 6 hours on high max. I'll be making this dish many more times.

 

First time I've cooked lamb shanks and doing them in the crock-pot is a breeze. Cooked for 5 hours on high and then turned down to low. They were well and truly cooked after 6 hours. Other change I would strongly recommend is using less salt. 2 tsps were way too much. Next time I'd just put in one level tsp and then taste before serving to see if any adjustment is required.

 

This recipe was fabulously delicious, and received rave reviews from my Gourmet Book Club members. I had a sit down dinner for 10 and the Lamb was tender and seasoned very well. I used two crock pots (because I use 14 shanks 7 per pot) with the same amount of seasoning and preparation for both (I did brown my shanks before putting them in the crock pots). The only thing I changed was the time of cooking. Cooked on high for 6 hours then turn down and cooked on low for 1 hour (the lamb is really tender and falling off the bone. The presentation was beautiful, I should have taken pictures, everyone's plate was empty. I served Vichyssoise for the soup, mashed sweet potatoes, roasted broccoli, and zucchini with the Lamb entrée, along with Banana Foster and French vanilla ice cream for dessert.