Braised Cabbage With Goat Cheese (Houston's Copycat)
wuhnenny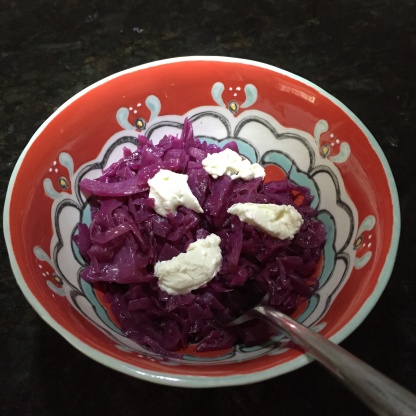 Houston's Restaurant makes a fabulous Braised Red Cabbage. I found a copycat recipe for it on "Nibbles of Tidbits, a Food Blog"
This was so good :) As someone who used to work for Houston's Restaurant for many years, I was so happy to be able to find this recipe as I LOVE their Braised Red Cabbage :). The only thing different was that (I know for sure) they use balsamic vinegar so I substituted that for the white wine vinegar and it turned out just as good.
Add the Vinegar, Water, Butter and Sugar to a Dutch Oven. Heat all on the stove for about 5 minutes. When the Sugar is dissolved, add the chopped Red Cabbage.
Stir all together, then cover and braise in the oven at 325° for 2 hours.** Stir every half hour or so. If the liquid completely evaporates, just add a little extra Water. **I was in a hurry so i let it cook on the stove top for about 10-15 min and then put it in the over for an hour and it turned out great.
Serve with a dollop of Goat Cheese.