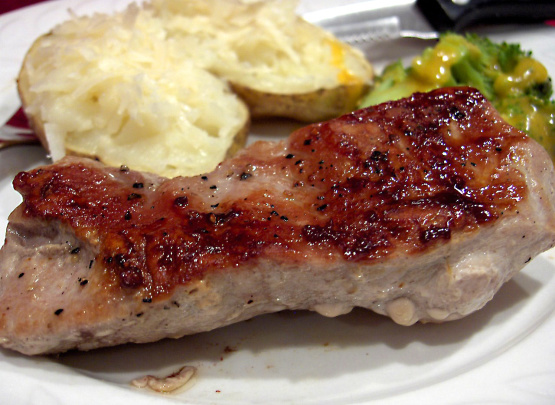 This is the best way I have found to make pork chops.
My new way of cooking pork chops! I have tried just frying in the skillet or grilling and they always end up dry or tough. I seasoned Hormel loin chops with garlic, seasoned salt, and pepper and after browning for a few minutes they only took about 12-13 mimutes before internal temp was 150. U did let them rest at least 5 minutes bofore serving, but would be glad to serve these to company! DH thought they were moister than even crockpot pork. Thanks for sharing!
Directions
Preheat oven to 400 degrees farenheit.
Heat 2 tablespoons olive oil in oven proof skillet over medium heat.
Sprinkle salt and pepper on both sides; add to skillet.
Saute until golden brown: about 2 minute.
Flip, cook two more minute.
Place pan in oven; roast until cooked through. About 10- 20 minutes.